In addition to no-charge basic estimates, we also provide PLUS Estimates. These detailed estimates help you plan your projects and their budgets; giving you more control by helping you manage costs and options.
Optimize insurance claims: PLUS Estimates are used for basis comparisons and claims payout.

Home Sales: Detailed information helps negotiate home sales (i.e. cost of remedying home inspection reports).

Improve your estimate comparisons: Know the details and be a smarter consumer.

DIY's: Materials lists, diagrams and time estimates can be a great start on your own DIY project.
Home inspections produce long lists of repairs: PLUS Estimates completes the picture- enabling you to negotiate the sell/purchase of your home- to your benefit.
Our Type I PLUS Estimate is shown below. We create a work breakdown structure, compile material lists and use updated material and labor costs. Typical Information includes labor, material, subtotals, areas and $/area where applicable. Fee is 2%, $400.00 min.
Type I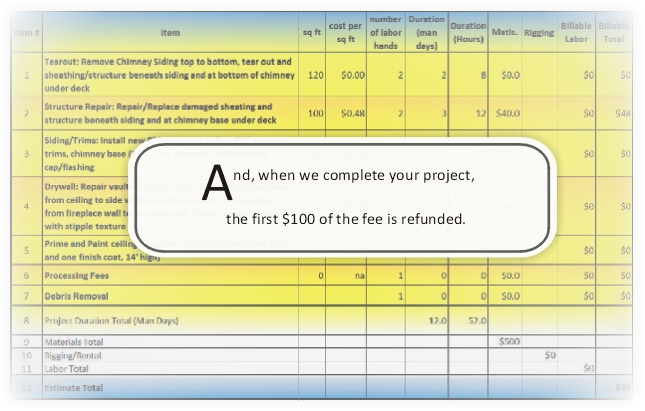 ---
OTHER TYPES
Type II
PLUS Estimates can include design work. This one has cabinet, iron works, and outdoor lighting designs.

Projects can also be broken down into work phases (to be completed at different times)
For larger projects, it is often useful to create a refined and robust schedule. Microsoft Project® schedules produce the most accurate of our time and cost estimates and create a plan that can be monitored and followed.
Type III